Ladies Lunch raises vital funds for Brighter Futures
Our amazing Ambassadors host another successful Ladies Lunch at Gouray Lodge
.
CHARITY AMBASSADORS GENERATE MAJOR GIVING FOR BRIGHTER FUTURES
A group of close friends are celebrating after raising more than £70,000 for Brighter Futures at its most recent event; an exclusive lunch for 70 invited guests.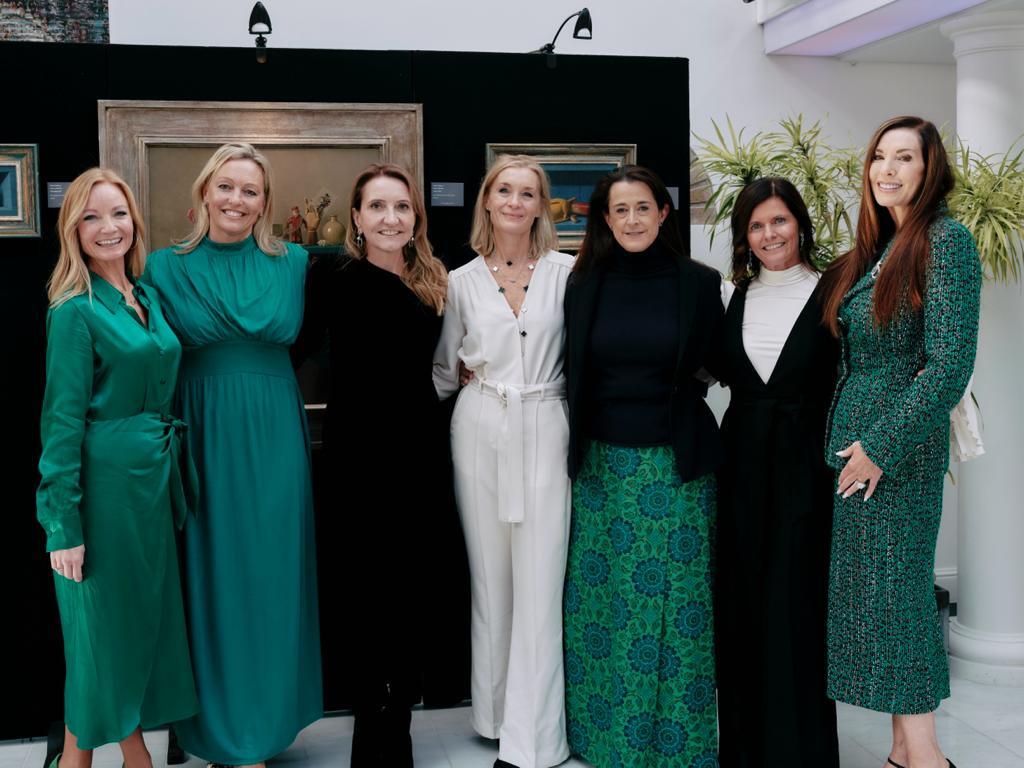 Photo credit: Ollie Jones Photography
Georgie Roberts, Louise Kenyon, Katriona Hollywood, Nina Mackie and Lucy Shuttleworth joined forces four years ago in aid of Brighter Futures, after being appointed as Ambassadors for the charity. Genevieve Brunwin joined the group this year.
Since then, the Ambassadors have hosted an annual 'Ladies Lunch' at Georgie's home, Gouray Lodge, where hundreds of guests have enjoyed an exceptional afternoon of dining, entertainment, and high-profile guest speakers.
The most recent lunch, "Eat, Drink and Be Giving" to benefit Brighter Futures, was sponsored by the London art gallery Gladwell & Patterson, who have supported the event for two years and given attendees the opportunity to view and buy a range of exceptional paintings and sculptures, which are brought over specially for the lunch.
Held on 9th November 2023, the lunch also featured a conversation with Sunday-Times bestselling author, the poet Donna Ashworth, who signed copies of her latest book, Wild Hope, and an evocative performance from soprano Nicki Kennedy. Nicki performed 'You'll Never Walk Alone', to a standing ovation, in memory of Louise Bracken-Smith, who was a dear friend of the Ambassadors. The Charity's Patron, Dr Kyd, also spoke about post-natal depression, one of the reasons that families are referred to Brighter Futures.
Ticket sales, a raffle (with prizes donated by Gladwell & Patterson and Hettich) and a silent auction raised a total of £70,000, with guests bidding for two nights at Gleneagles, exclusive use of Tassili restaurant (donated by Handpicked Hotels), and a personally commissioned poem by Donna Ashworth for one lucky bidder.
Over the years, the lunches have raised almost £400,000, with this year's proceeds supporting many more families.
Fiona Brennan, CEO of Brighter Futures, said: "We are incredibly fortunate to have the support of this amazing group of women; close friends who continually advocate for us and who raise an astounding amount of money, even in difficult times, for the charity. We support more than 150 families per week and their support is, quite simply, invaluable. We are hugely grateful for their time, energy, and compassion towards Brighter Futures. This wonderful fund raiser takes us closer to our required operating costs of £1.18 million for 2023, reducing our funding shortfall."
Georgie Roberts said: "As a group of great friends and Ambassadors for Brighter Futures, we love creating this unique event for a charity that is very close to our hearts. We are so proud of the amount we have raised directly to help more families in Jersey to access the care and support they deserve, from Brighter Futures."