White Collar Darts 2023 Post-event film
You loved WCD 2023, now watch the film!
.
What an amazing evening on Saturday 17th June at the RJAHS!
What a night and what a result - £20,000 raised, meaning that we can help four more families this year!
You enjoyed the evening like no other, now watch the post-event film!
See who you can spot in our all-action update, and enjoy the memories!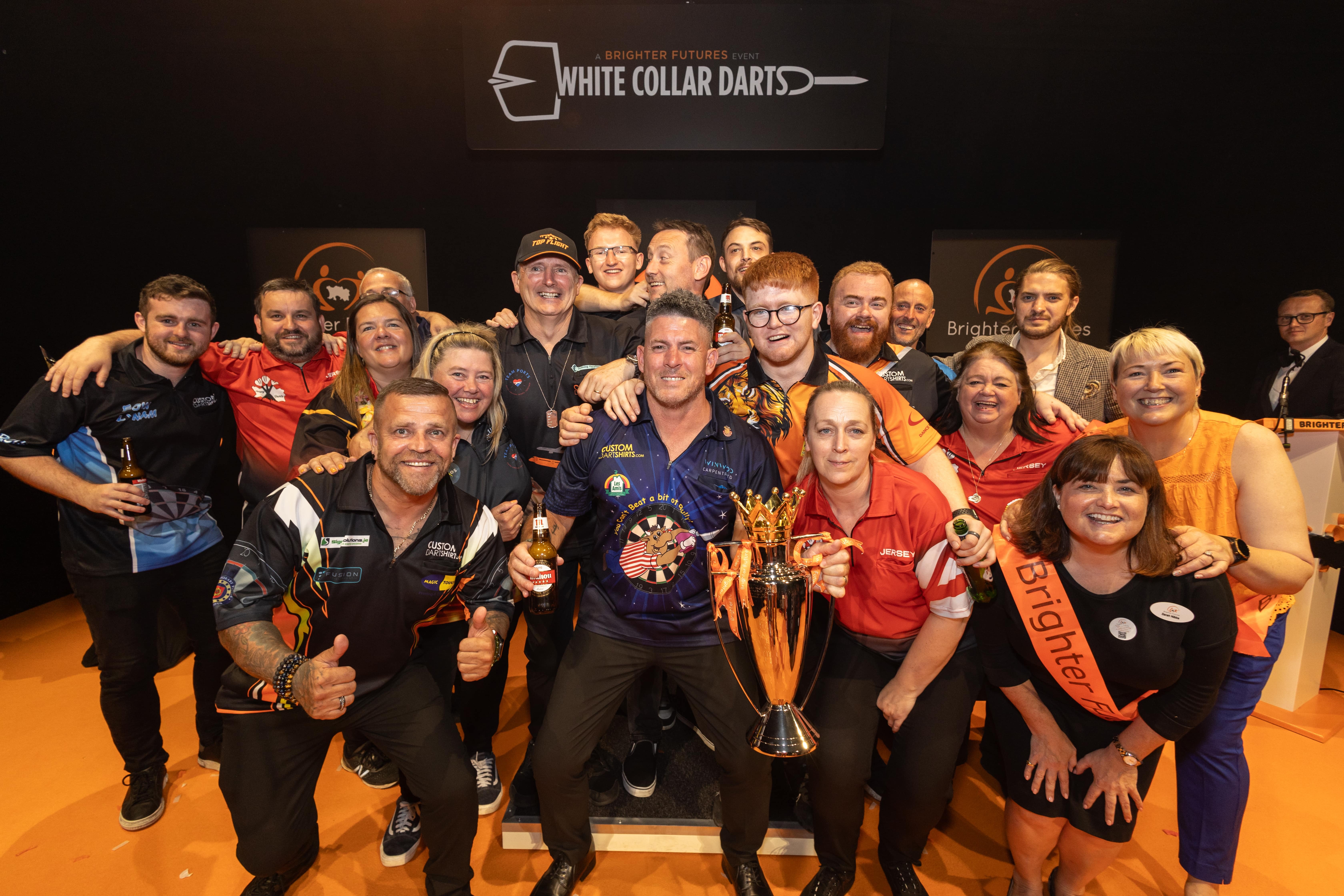 Brighter Futures White Collar Darts 2023 Super, Smashing, GREAT.

Once again White Collar Darts aimed for the bullseye and soared to success.

In a culmination of their rigorous training programme, we witnessed some of the wackiest walk-ons, an abundance of enthusiastically thrown darts and an atmosphere that is always electric. Also, as always, the funds so generously raised will help ensure more families receive a Brighter Future in Jersey.

Great credit goes to Jersey Darts who are complete stars - the heartbeat of the operation over the two months. What they don't know about darts isn't worth knowing about! Also, the JMI and the fab team who work there who have hosted the 'flight cub' coaching sessions over the past two months.
Gareth and Island Fever Events, who is always a pleasure to work alongside.

AND of course .. Huge congratulations to the Brighter Futures WCD23' winner Andy 'The Mullet' Millett, our amazing Class of 23' and everyone who attended in making it the unique spectacle it really is!

White Collar Darts - it's brilliantly bonkers, an experience like no other and we can't wait for the next one!

Class of 23' :
Andrew 'The Mullet' Millett - WINNER!
Andrea 'The Flash' John
Brian 'Top Flight' O'Leary
Callum 'The Lion' Livesey
Chrissy 'Flamin' Phoenix
Eoin 'The Archer' Lynam
George 'Unforgiven' Scriven
Guy 'Gunflash' Marshall
Joe 'The Muppet Man' Baugh
Justin 'The Slinger' Spanswick
Lee 'Dart Vader' Camfield
Mark 'Sharpshooter' Smith
Matt 'Lord of the Board' Gurd
Nick 'The Enigma' Walmsley
Paulo 'The Tiger' Martins
Richard 'Ginger Fury' O'Connor

Jersey Darts Coaches:
Stuart Moon
Craig Quemard
Phil Speak
Sid Bell
Mark Buckingham
Eddie Le Bailly
Angela Le Bailly
Ema Hawley

Thanks to the suppliers listed below and many more in making this fantastic event happen too:
Delta Events
Marquee Solutions
SD Catering
Alfresco Events & Bars
Royal Jersey Showground
Blue Islands
Channel Islands Liquor Co
Mailmate Print
John Fowler M C
Connor Burgher
Carl Gallie Photography & Videography
Above and Beyond Visuals (Cameron Aird)
Customdartshirts.com
C. I. Engravers Limited
Chris Benest (CB Sports)
Sue Medland (Personal Security Services)
PBS Group